MINERAL TURBINE OIL (MTO)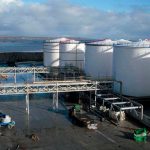 The Mineral Turpentine Oil is manufactured by making use of volatile fraction obtained from petroleum. Coming refined from crude oil using process called alkylation.
For Cleaning Purpose: It is also used as a general cleaning solvent as it removes oils and greases from metal surface. It is commonly used as a paint thinner for oil-based paint and cleaning brushes, dry cleaning of cloths and as an organic solvent in other applications.
It is also used in Ink manufacturing, Rubber solvent agent and solvent carrier in the manufacture of both shoe and furnishing polish. it is used as a domestic weedicide capable of killing almost all unwanted growth likely to be encountered.
MTO (Low Aromatic White Spirit) with primarily used in Paint industry is available from Refinery and Port locations.
MTO Product details