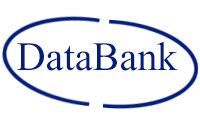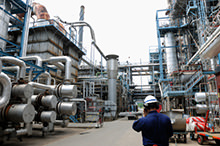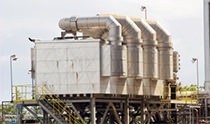 REFINERY WISE CRUDE COMSUMPTION
Total Crude oil consumed in each refinery is shown in the tabular form. The refineries use different type of crude oil at different time depending upon the availability, type of product required and commercial reasons. Another detail table is shown under sub heading Industry Report "Refinery-wise Crude wise consumption at Indian Refineries."

ALL INDIA SALES
Company-wise, District-wise, State-wise All India sales of all major petroleum products are covered in this section. All Major participants particularly PSU oil companies and a few large oil companies are covered in this database. This section is one of the most useful, most significant and very exhautinve section of the portal. The data is as reported by respective oil companies.

ACTS & CONTROL ORDERS
Petroleum sector is governed by maximum rules and regulations due to its implications / importance and reach to the common masses. Hence Govt. keeps announcing New Acts / changes in the acts and control order. This section compiles makes available these Acts and Control Orders for reference and presentation to civil auathorities / legal issues.
INDUSTRY REPORTS
Petroleum Sector is one of the most investigated, studied and analysed sector in India. There are several expert committees appointed on different aspects of the sector. In addition to this different oil companies in Govt. and Private sectors have also constituted committees to study many aspects effecting their companies. This section tries to collect and provide you many of these studies allowed to be made available in public domain.

PARLIAMENTS Q & A
In Rajya Sabha (Upper House) and Lok Sabha (Lower House of the Parliament) many written questions are asked by the members who are representatives of public and which are in general importance to the public. The govt. gives its written reply though its concerned ministries. In this section we try to compile the important questions and their response submitted by the ministery.

PORTS DETAILS
Crude Oil and different petroleum Products are imported and exported from the ports in India. In this section we have compiled monthly import and export of most of the petroleum products particuarly falling under chapter 27. The data shows the name of product, imported from, exported to, indian port, and in some cases details of importer and exporters.